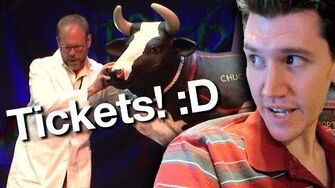 Previous Vlog (Day 2145) | Next Vlog (Day 2147)
Locations
Edit
Stephen and Mal's apartment
It's a pretty productive Saturday for Stephen. He got a chance to record a live stream of RPG Maker MV and test out YouTube Gaming in preparation for Extra Life 2015. He and Mal also bought tickets to see Alton Brown live in Charleston as a bit of a birthday present for Mal.
Ad blocker interference detected!
Wikia is a free-to-use site that makes money from advertising. We have a modified experience for viewers using ad blockers

Wikia is not accessible if you've made further modifications. Remove the custom ad blocker rule(s) and the page will load as expected.