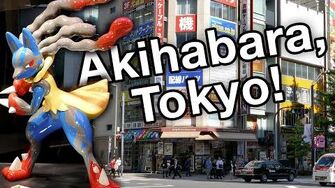 Previous Vlog (Day 2360) | Next Vlog (Day 2362)
Locations
Edit
Hanabi hotel
7-Eleven
Ikebukuro, Tokyo

Pokemon Center Mega Tokyo

Akihabara, Tokyo

Animate
An udon restaurant
Super Potato
Various malls and shops
Karaoke place

Shibuya, Tokyo
After a quick breakfast featuring BOSS Coffee (brought to you by Tommy Lee Jones), the gang heads out on the town. The first stop of the day is the Pokémon Center where Stephen picks up an Eevee shirt.
Stephen and Mal wander around Akihabara, which turns out to be a hub of video game and anime/manga fandom goodness. Stephen unknowingly orders geoduck udon and has his worldviews expanded. After lunch, they meet up with everyone else to stop by a retro game store and a karaoke place.
Dinner is sushi at a futuristic Jetsons-like restaurant at Shibuya.
Mal: "Do you feel like a boss?"

Stephen: "I mean, yeah, sure... I have now-"
Steve: "I feel like assistant manager!"
Fangamer crowd (singing): "Like crabby, crabby, crabby noooo... I thought you'd always be mine (mine)..."
Ad blocker interference detected!
Wikia is a free-to-use site that makes money from advertising. We have a modified experience for viewers using ad blockers

Wikia is not accessible if you've made further modifications. Remove the custom ad blocker rule(s) and the page will load as expected.