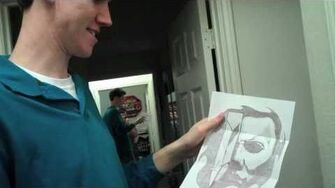 Previous Vlog (Day 440) | Next Vlog (Day 442)
Locations
Edit
Stephen wakes up today after falling asleep in his chair. Also, Jeremy buys Minecraft today, which means that six people are on their server right now: Stephen and his roommates, Jeremy, and Mallory.
Stephen announces that the votes for the position of the new card frame have been tallied up, and it will be going up in the alcove outside his room. Stephen says that he probably won't buy another card frame once the new frame is full. He's thinking of cycling out the cards and putting older ones into a large binder.
He also gets a letter from Ryan, Mallory's cousin and Stephen's future cousin-in-law. Ryan includes a picture of something Stephen and Dan call "Abe Lincoln Schwing" since it looks like Abe Lincoln's face with a sword/dagger in front of it.
Towards the end the vlog, Stephen shows off some delicious sweets that Debra made for him and his roommates.
Stephen: "If you would like to send something... I will open it on camera. Plug yourself, plug your channel, plug your business, you know, as long as you're not selling... adult products. If you want those advertised, you'll have to go to dailydanvlog."
Ad blocker interference detected!
Wikia is a free-to-use site that makes money from advertising. We have a modified experience for viewers using ad blockers

Wikia is not accessible if you've made further modifications. Remove the custom ad blocker rule(s) and the page will load as expected.