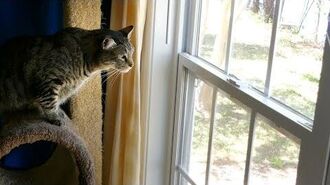 Previous Vlog (Day 2694) | Next Vlog (Day 2696)
Locations
Edit
Stephen and Mallory's house
Their neighborhood
Stephen and Mal have some errands to run today, but not before opening the windows to let the cats look outside. Stephen also moved the cat tree from their back door to next to the window, and Sagan really likes it since he can look outside from a higher vantage point.
Some time later, Mallory has finished the first pass of the full version of the Katamari painting, and they go out for a walk around their neighborhood. They've been walking every day (besides the previous day) since 3 days ago, which is good and they're going to try and keep it up. In other news, they are loving the weather of 70º before summer hits.
Unfortunately, Stephen forgot to end the vlog, so he ends it the next day. He shares that they stayed up that night to finish and upload the full video of Mal's painting. He was so focused on getting the painting out that he forgot to end the vlog.
They mention in the vlog that Lindsey is planting Goliath tomatoes, while Mallory is planting Sweet Million tomatoes.
Ad blocker interference detected!
Wikia is a free-to-use site that makes money from advertising. We have a modified experience for viewers using ad blockers

Wikia is not accessible if you've made further modifications. Remove the custom ad blocker rule(s) and the page will load as expected.