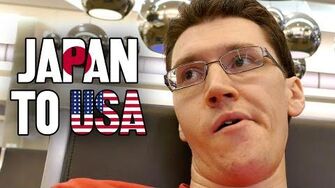 Previous Vlog (Day 2367) | Next Vlog (Day 2369)
Locations
Edit
San Francisco International Airport
Chicago O'Hare International Airport
Charlotte Douglas International Airport
Stephen and Mal's apartment
Stephen and Mal have an incredibly long travel day from San Francisco to Chicago, then to Charlotte, and finally back to Myrtle Beach. Really long layover times don't help their situation at all - it takes them a total of 45 hours to get from their hotel to their apartment.
And the day doesn't end there: they both grab dinner with Stephen's parents before heading home for a much-needed sleep.
Ad blocker interference detected!
Wikia is a free-to-use site that makes money from advertising. We have a modified experience for viewers using ad blockers

Wikia is not accessible if you've made further modifications. Remove the custom ad blocker rule(s) and the page will load as expected.