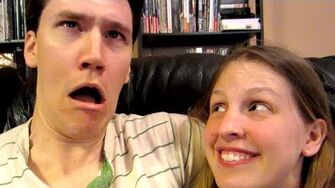 Previous Vlog (Day 1698) | Next Vlog (Day 1700)
Locations
Edit
Stephen and Mal's apartment
Stephen and Mal take some time to reflect on their road trip. Stephen drove for the entirety of the trip: 3,548 miles. Despite some people's warnings, they really enjoyed their time on the road, maybe barring the drive through West Texas due to a combination of reasons.
Los Angeles was Stephen's favorite destination, mostly due to the kindness shown to him by the locals. In Nevada, Stephen encountered dry heat for the first time, and learned that he doesn't sweat in dry heat. Flagstaff surprised both he and Mal due to the terrain and they were glad to experience the nature in Tucson thanks to Steve.
Their first impression of El Paso wasn't as positive as some others, but the food was excellent there. West Texas was pretty boring, but they made a stop in Ozona where they visited a hollowed-out McDonald's. San Antonio was a very nice town, and Stephen gives a shoutout to the owner of the hotel they stayed at - he wrote Stephen and Mal personal messages thanking them for staying in his hotel.
The drive from San Antonio to Houston was a particular headache given the poor driving. However, the meetup was surprisingly well-attended. The next time they go to Texas, they would like to visit Austin and Dallas.
New Orleans, despite the delicious food and pretty buildings, was the smelliest city on the trip (although they only visited the French Quarter). Biloxi and Gulfport were a lot of fun, and Alabama felt like a bit of a speed trap with lots of cops.
Florida was familiar territory for them since they spend so much time there anyways. They also made the decision to pass through Savannah since they were already very familiar with the area.
All in all, Stephen and Mal had a great time on the road trip, and would like to do some more traveling later on. They'd like to do another road trip in the near future up the East coast to visit New York, Washington, D.C., and Maine. Other destinations are a possibility, but Stephen doesn't want to make any promises until much later on.
In other news, they will both be leaving for Indiana in a bit over a week.
Ad blocker interference detected!
Wikia is a free-to-use site that makes money from advertising. We have a modified experience for viewers using ad blockers

Wikia is not accessible if you've made further modifications. Remove the custom ad blocker rule(s) and the page will load as expected.