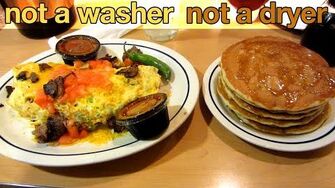 Previous Vlog (Day 2147) | Next Vlog (Day 2149)
Locations
Edit
IHOP
Stephen and Mal's apartment
Stephen had to take a nap for the first time in a long time today. He couldn't get back to sleep after waking up at 5:15 this morning. But now he's fully rested and is continuing to work the day away.
On an unrelated note, Stephen's parents' washer and dryer finally broke down after 23 years of use. This isn't great news for Stephen and Mal, since they often bring their laundry over to the Georg house to get it done.
Ad blocker interference detected!
Wikia is a free-to-use site that makes money from advertising. We have a modified experience for viewers using ad blockers

Wikia is not accessible if you've made further modifications. Remove the custom ad blocker rule(s) and the page will load as expected.