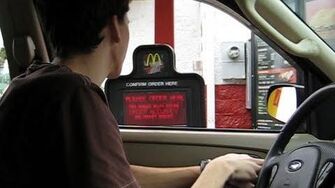 Previous Vlog (Day 599) | Next Vlog (Day 601)
Locations
Edit
Stephen's Car - Savannah, Georgia - 3 Years Ago
Outside Coastal Georgia Center - Savannah, Georgia - 3 Years Ago
Stephen's Parents' House - Myrtle Beach, South Carolina - Present Day
It's Day 600 of the Vlog!... Unfortunately Stephen has absolutely nothing to show in present day. So, let's time travel back to 2009, literally Day -186, to Stephen, Alex, Dan, and Taylor, when they are all Sophomores at SCAD, in a behind-the-scenes look at the making of Burger Fever! And yes, 20 cheeseburgers at McDonalds were involved.
The 20 cheeseburgers Stephen & company ordered at McDonalds were used in the short film "Burger Fever," which can be found here. This was actually Stephen's final project for one of his classes at SCAD that year.
The clips filmed by Dan were taken on Saturday, May 23rd, 2009, which was approximately six months and one day before Day Zero, which was the start of StephenVlog.
The end clip of this vlog was a production photo of Alex on the set of the short film "Burger Fever."
Stephen: "Um, can I have 20 cheeseburgers?"
Ad blocker interference detected!
Wikia is a free-to-use site that makes money from advertising. We have a modified experience for viewers using ad blockers

Wikia is not accessible if you've made further modifications. Remove the custom ad blocker rule(s) and the page will load as expected.