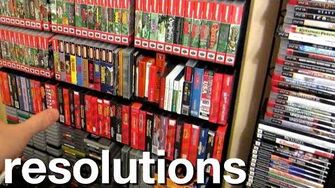 Previous Vlog (Day 1864) | Next Vlog (Day 1866)
Locations
Edit
Stephen and Mal's apartment
Stephen talks about both last year's and this year's resolutions for himself and Mal. They have yet to complete their Nintendo 64 collection, but they've managed to acquire most of the rarer titles, so it shouldn't take them too long to get the remaining games.
Stephen's resolution to watch more films sort of succeeded. He wanted to watch 52 films this year, but only made it to 22 films.
On the flipside, Mal's resolution to make more art didn't exactly turn out, mostly because they were out of town or playing host for much of the year.
This coming year, Mal hopes to sew more with Hayley, and she hopes to have more chances to prepare more meals with Stephen. Stephen has similar hopes for the coming year: he hopes to watch more films and complete his N64 collection.
Ad blocker interference detected!
Wikia is a free-to-use site that makes money from advertising. We have a modified experience for viewers using ad blockers

Wikia is not accessible if you've made further modifications. Remove the custom ad blocker rule(s) and the page will load as expected.