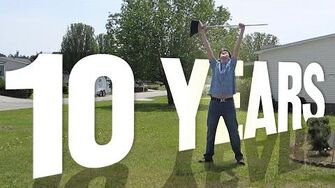 Previous Vlog (Day 1961) | Next Vlog (Day 1963)
Locations
Edit
It's Day 1962. 1962 was a long time ago. Coincidentally, this is also the 10-year anniversary of The Broom Game.
A brief explanation: in Stephen's early years of video-making, he uploaded videos onto a website. One of these videos, entitled the Broom Game, featured Stephen holding a broom above his head, spinning around multiple times, then dropping the broom and trying to jump over it. It was Stephen's first big hit as a video - it was downloaded around 10,000 times.
Today, Stephen celebrates this anniversary (and day 1962) by playing the Broom Game in the exact same location that he did ten years ago. It doesn't go so well.
Ad blocker interference detected!
Wikia is a free-to-use site that makes money from advertising. We have a modified experience for viewers using ad blockers

Wikia is not accessible if you've made further modifications. Remove the custom ad blocker rule(s) and the page will load as expected.