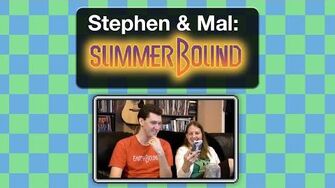 Previous Stream (The Binding of Isaac) | Next Stream (RPG Maker MV)
"Summerbound" Livestream is a live stream recorded by Stephen and Mal on June 6th, 2015. The stream was the first in a series of streams during the month of June for Summerbound 2015 put on by Starmen.net.
Stephen has also done a full Let's Play of Earthbound, as well as two charity streams where he and Mal played through the entire game (2012 and 2013).
Ad blocker interference detected!
Wikia is a free-to-use site that makes money from advertising. We have a modified experience for viewers using ad blockers

Wikia is not accessible if you've made further modifications. Remove the custom ad blocker rule(s) and the page will load as expected.