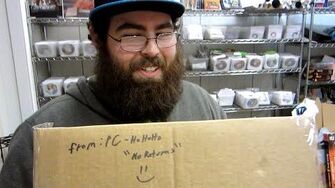 Previous Vlog (Day 1857) | Next Vlog (Day 1859)
Locations
Edit
Player's Choice
Stephen's parents' house
Stephen and Mal's apartment
Thomas is in town for a visit, so Stephen and Mal join him on a trip to Player's Choice. While there, Stephen receives a surprise Christmas present from the folks at the store: a game.com made by Tiger Electronics. It is a very rare handheld game system that sold very poorly and was discontinued very quickly after its launch. Stephen tries (unsuccessfully) to play Duke Nukem 3D on the console.
Ad blocker interference detected!
Wikia is a free-to-use site that makes money from advertising. We have a modified experience for viewers using ad blockers

Wikia is not accessible if you've made further modifications. Remove the custom ad blocker rule(s) and the page will load as expected.