Previous Vlog (Day 1536) | Next Vlog (Day 1538)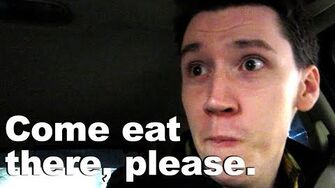 Stephen's parents' house
Sonic
Stephen's car
Wal-Mart
Stephen and Mal's apartment
Stephen and Mal's car has a bolt loose on their rear license plate. They don't have the tools to fix the problem at their house, so they're over at Stephen's parents' house to remedy the issue. Stephen mentions that he released ten videos today, which is a lot more than he usually does.
They head to Sonic, then go shopping for some cat food at Wal-Mart. They relax by playing games for game night and eat some pizza. This is significant because they are following a new schedule for meals. Stephen titles the schedule "Food, Bro" hence the title of the vlog.
Stephen: "We should re-enact the commercials [for Sonic]!"

Stephen: "Yeah, I really like this burger, Dale!"
Stephen: "Oh, really, Jim! Yeah! I ordered 90 of them!"
Stephen: "Jim, don't you think that's a lot of burgers?"
Stephen: "Yeah!"
Stephen: "Sonic. Come eat there, please."
Ad blocker interference detected!
Wikia is a free-to-use site that makes money from advertising. We have a modified experience for viewers using ad blockers

Wikia is not accessible if you've made further modifications. Remove the custom ad blocker rule(s) and the page will load as expected.