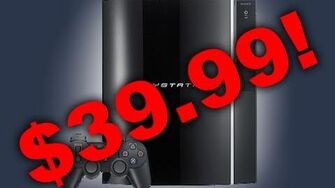 Previous Vlog (Day 417) | Next Vlog (Day 419)
Locations
Edit
Stephen discovers that Target is selling PlayStation 3 consoles for $39.99, probably accidentally. Dan buys one and hopes that they actually deliver the console. Stephen finds out that this is the result of a glitch, and believes that Target probably won't send out consoles for $40.
This isn't the first time price glitches have happened in the past, but it's certainly a major one since it involves a $500 console. Stephen recalls that he purchased Resident Evil 4 a week before its release back in the day.
Ad blocker interference detected!
Wikia is a free-to-use site that makes money from advertising. We have a modified experience for viewers using ad blockers

Wikia is not accessible if you've made further modifications. Remove the custom ad blocker rule(s) and the page will load as expected.